Colombia Bike Tours.cc es parte del reconocido tour operador ciclista En bici por Francia SAS , con sede en Bogotá , Colombia . Es el único turoperador en Latinoamérica dedicado a la organización de viajes en bicicleta en Europa.
En bici por Francia es la elección de los ciclistas apasionados de América Latina, principalmente de Colombia pero también de México, Costa Rica, Panamá, Venezuela, etc.que desean combinar recorridos en bicicleta de ensueño, apoyo profesional, un ambiente vacacional relajante, alojamiento de calidad, y personas de ideas afines con las que compartir la experiencia de su vida.
Creado en 2014 por entusiastas del ciclismo y ex ciclistas de élite, nuestros viajes están diseñados para lograr el equilibrio adecuado entre resistencia, desafío y diversión. Nuestro conocimiento a través de los años nos permite llevarlo por rutas desconocidas a los puertos más famosos de Francia y Europa, para brindarle una experiencia privilegiada e inolvidable.
Ahora, con Colombia Bike Tours.cc , creado en la segunda mitad de 2018, queremos que experimente las increíbles carreteras y paisajes de Colombia , un lugar cada vez más popular para viajar y con una oferta aún muy limitada de los operadores turísticos. Conocemos perfectamente Colombia ya que estamos ubicados allí, y cuando se una a nosotros, queremos que sepa lo que se siente al ser un ciclista profesional y prometemos ofrecerle un paquete de soporte técnico excepcional, con una selección de hoteles asombrosos.
Entre otros, estarás escalando los puertos de montaña más imponentes del planeta, como el Alto de Letras, ¡una subida impresionante de 82km con cerca de 3900 metros de desnivel acumulado! Y este es solo uno de los muchos ejemplos.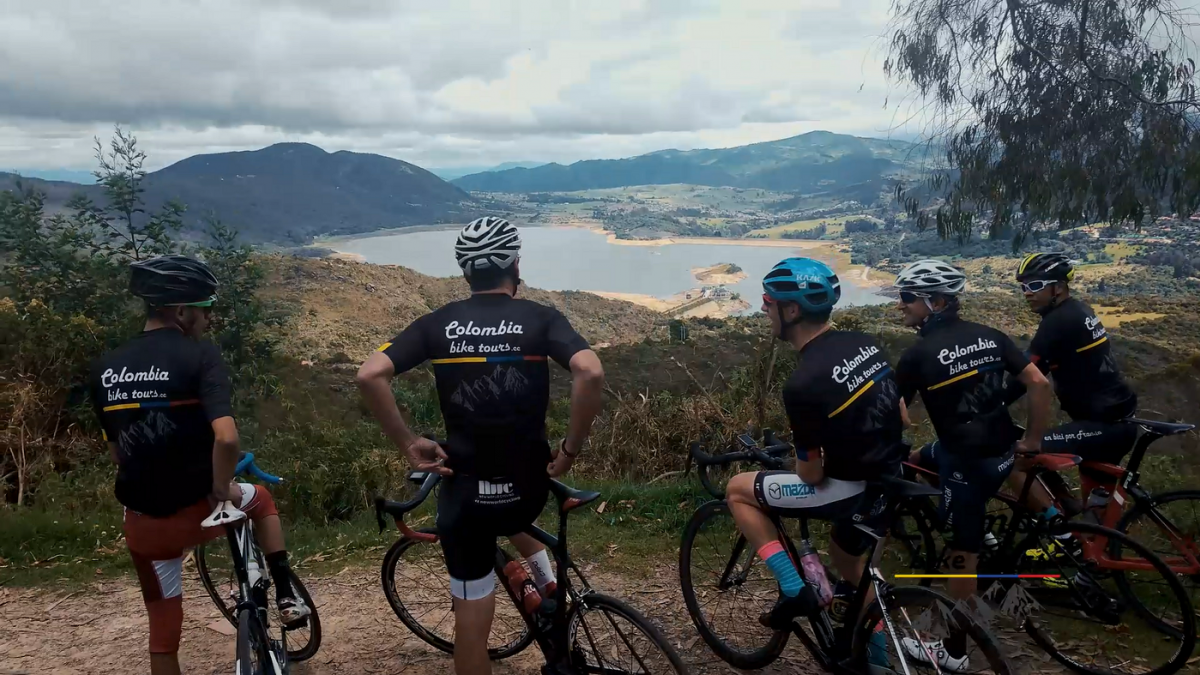 Nuestros guías ciclistas profesionales y nuestro equipo con nuestros vehículos de apoyo se asegurarán de que tengas una experiencia fantástica en Colombia. Al final de su experiencia, todos nuestros clientes se sienten como si hubieran sido parte de un grupo de amigos.
Para las personas que no montan pero quieren acompañar a su amado ciclista, ofrecemos recorridos turísticos guiados en los diferentes lugares a los que vamos, para brindarles una experiencia que sea a la vez emocionante y culturalmente gratificante.
Realmente esperamos que sea parte de uno de nuestros próximos viajes para tener la experiencia de su vida.
A Rueda Ciclismo - About cycling tour operator En bici por Francia
Yves Millière – Founder
Passionate about cycling since always and living in Colombia since the end of 2013, French born Yves, founded En bici por Francia SAS at the end of 2014 when he had the idea of ​​creating a tour package for the Tour de France 2015, for a group of cycling fans. The project finally reached 45 people thanks to the support of the French embassy in Bogotá and its ambassador at this time, Mr. Jean-Marc Laforêt, who gave credibility to the project with his presence in the launch event of the company in Bogotá, in February 2015. Yves has been cycling since he was 14 and competed for more than 20 years at an amateur level in Europe, essentially in France.
With the launch of Colombia Bike Tours.cc, Yves is decided to invite cycling fans from all over the world to discover by bike the magnificence of Colombia. For sure, many will be surprised by the beauty of these landscapes.
Formerly an economist, Yves is now fully involved in the management of the tour operator and also ride as a guide with the groups most of the time. Yves speaks fluently French, English and Spanish.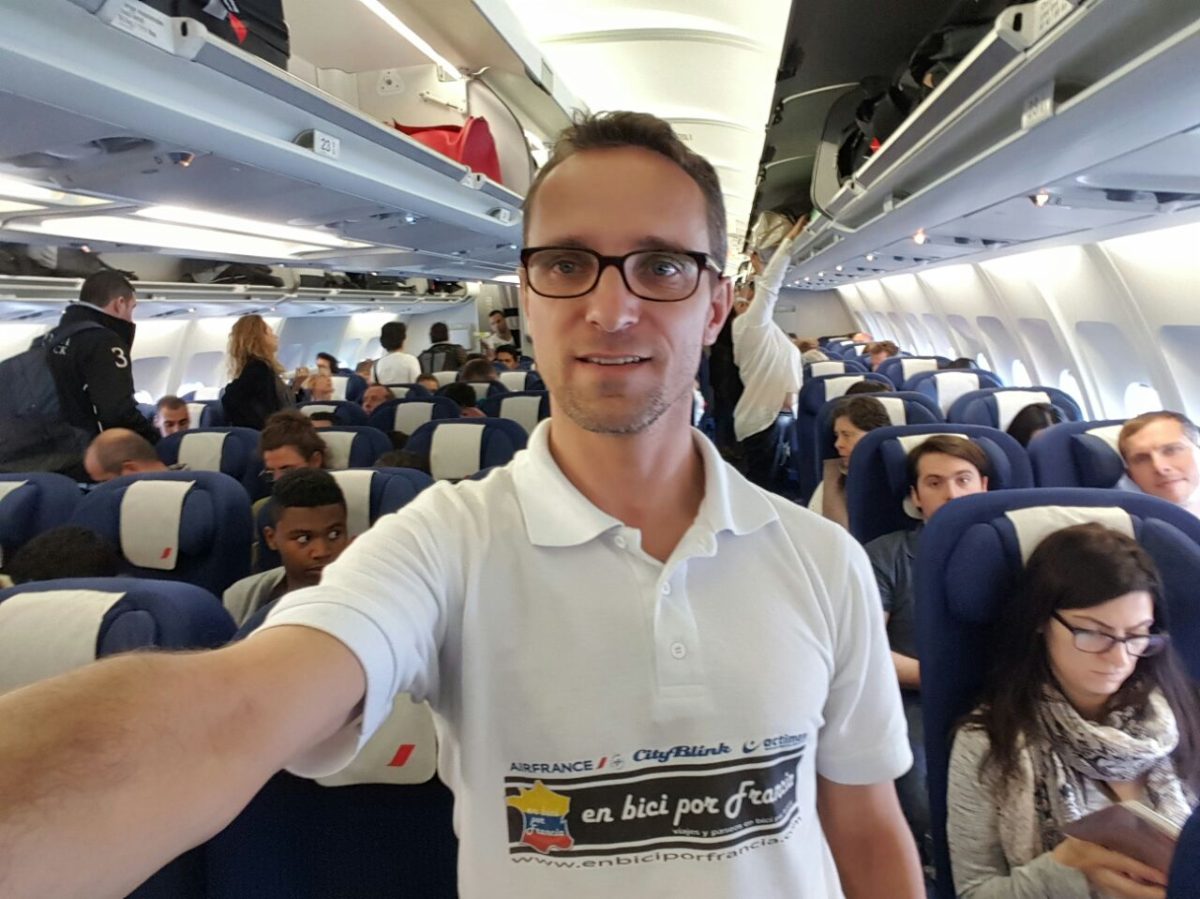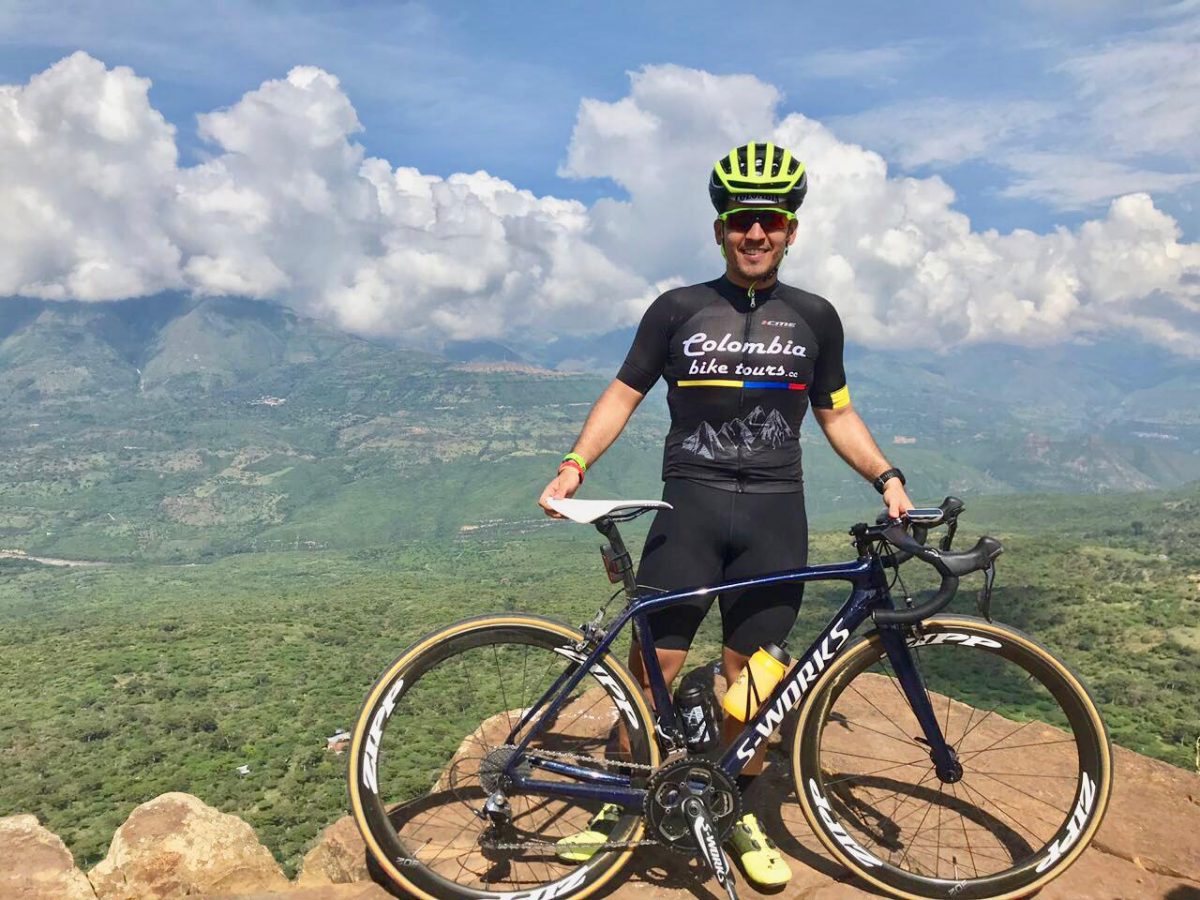 Gustavo – Logistics / Bike guide
Gustavo, born in Bucaramanga, department of Santander, also the birthplace of several national cycling glories such as Víctor Hugo Peña (first Colombian ever to wear the Yellow Jersey in the Tour de France), has been practicing several sports since his childhood. He has been practising cycling and triathlon since 2014 and actually just finished his first ironman, the 70.3 of Cartagena, Colombia, very recently. A high level of education (he is just about to terminate a MBA) and a deep willingness to show the beauty of his country to foreigners, altogether make Gustavo the ideal person to manage our logistics and administration on a daily basis, as well as to serve as an excellent guide on the bike. Always with a smile on his face, Gustavo will be keen to solve any problem you could possibly encounter during your stay. Gustavo speaks English and Spanish.
Luis – Bike guide
Luis has been riding almost before he started to walk. American born, been living in Colombia for more than ten years, competed and cycled all over the world, Luis knows it all about cycling. He will be more than happy to receive cyclists from all over the world to show his beautiful adoptive country, with tips that even Colombians don't know about. Luis speaks fluent English and Spanish.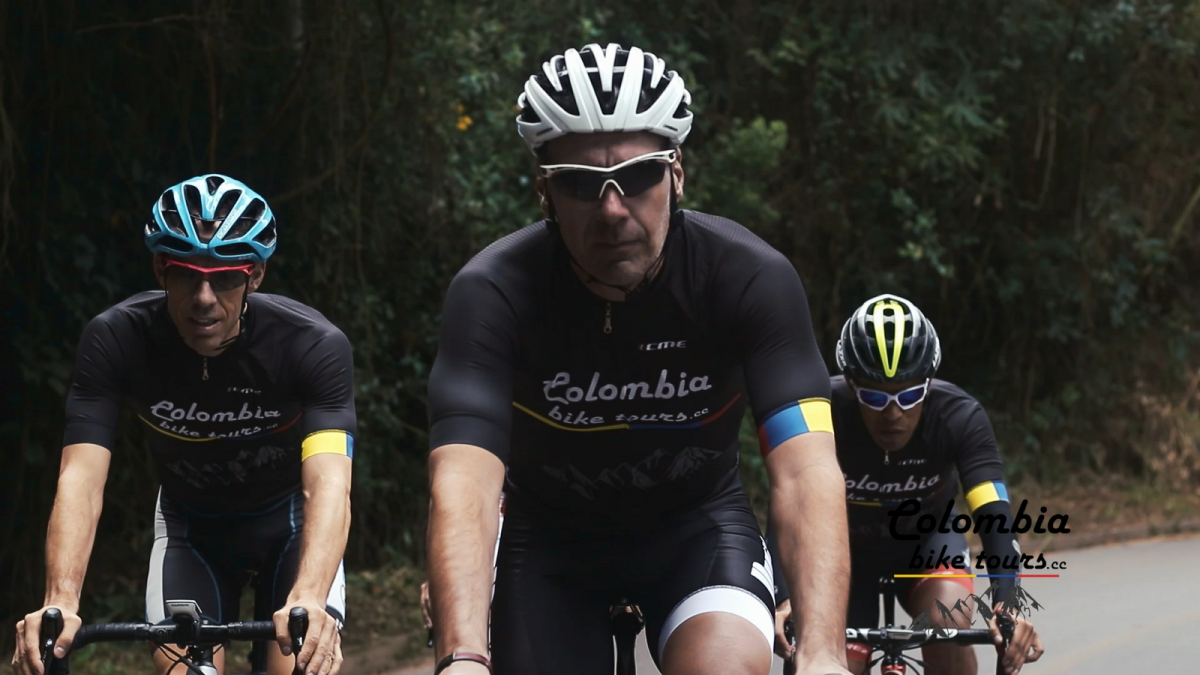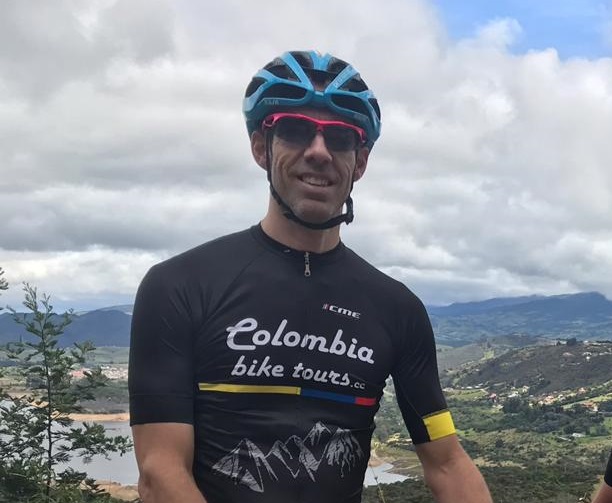 Steve – Bike guide
Passionate about cycling since a teenager, Canadian born Steve has been living in Colombia for more than five years now. Steve has been travelling a lot outside and inside Colombia to compete or take part in mass events like the gran fondos, not only on a road bike, but also on a mountain bike. Definitely in love with Colombia, Steve has a sense to make people feel welcome. With a strong knowledge of various cultural aspects of Colombia, Steve will show you and explain what is really interesting for a foreigner to know about the country. Steve speaks fluent English, Spanish and French.
Jose – Bike guide
Born in Bogotá, the capital of Colombia, and involved into sports and cycling since he's a teenager, Jose has a deep knowledge about sports sciences and obviously cycling – he is actually a sports teacher at Bogotá's Universidad Nacional. Before returning to live in Colombia recently, Jose spent 16 years in the US (Miami) where he always kept practicing cycling. Jose keeps competing in Colombia at amateur level and you will enjoy his high knowledge about the History of cycling and all its anecdotes. Jose speaks Spanish and English.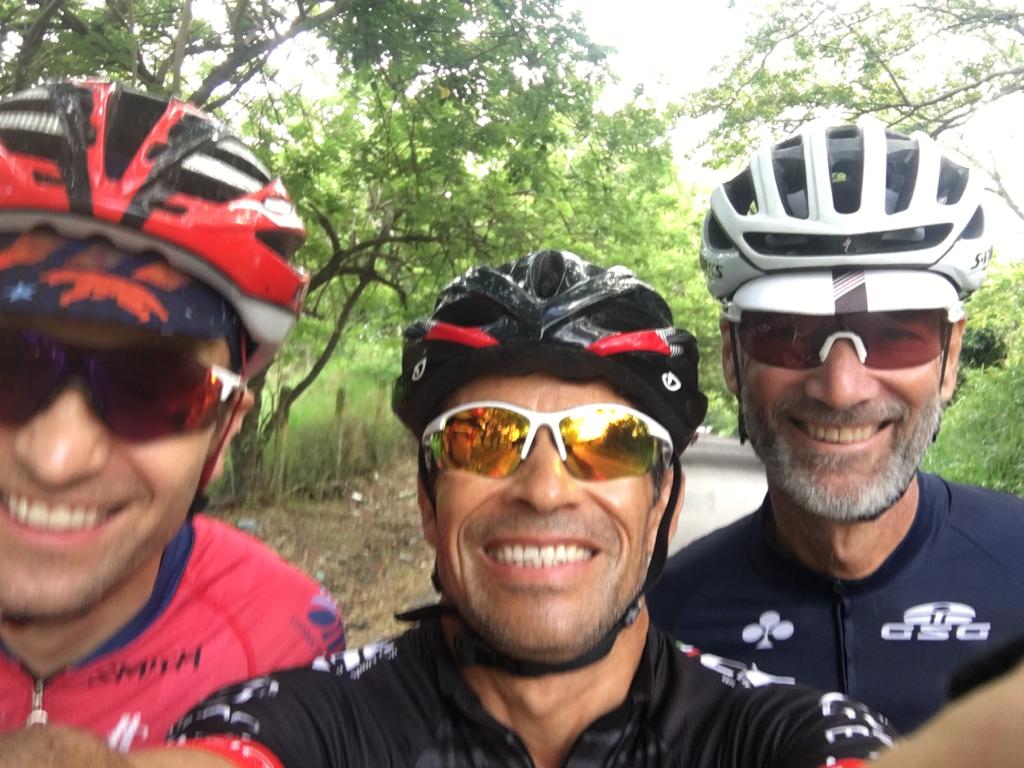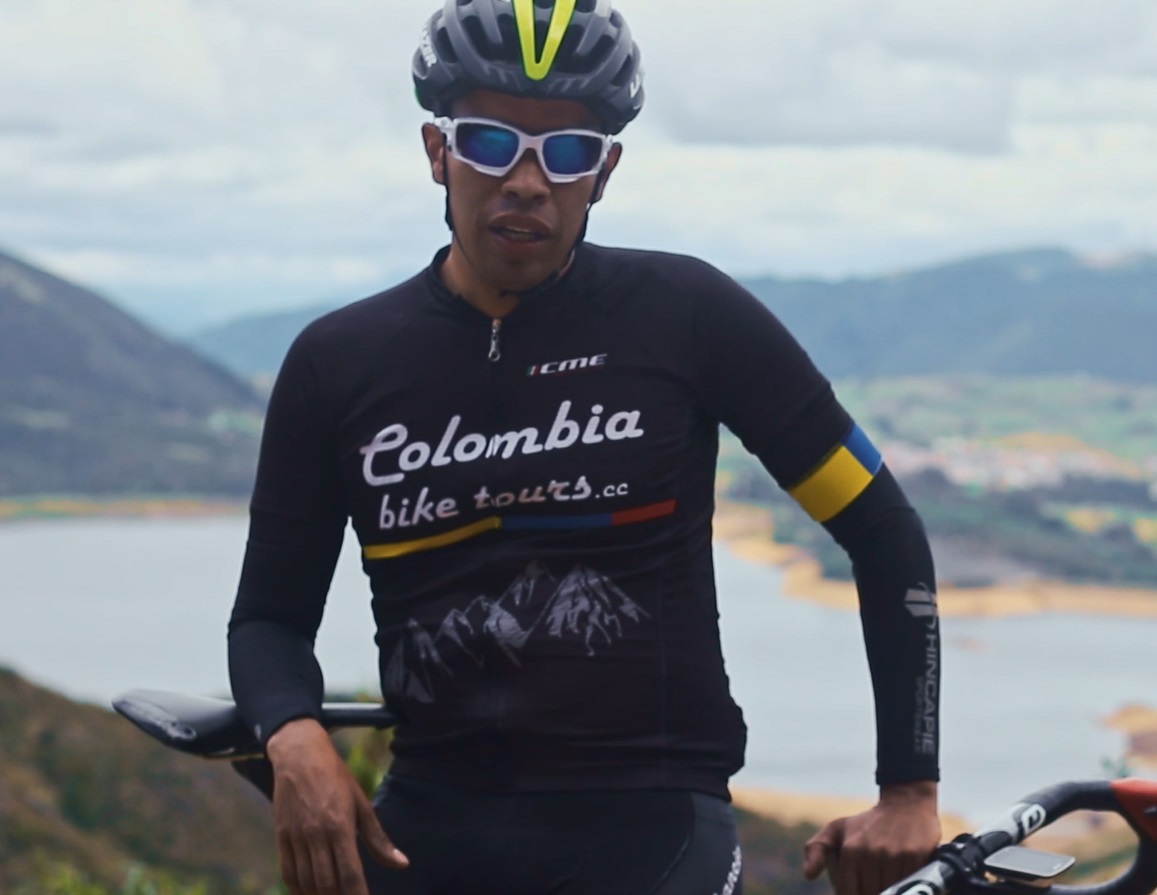 Hector – Bike guide
Born in the capital city of Colombia, and involved into cycling since he's 18, Hector used to belong to the track and road cycling selections of Bogotá during eight years where he used to train on a daily basis with national figures such as Edwin Avila and Esteban Chaves (Team Mitchelton-Scott). During that time, Hector also managed to study electrical engineering at the university, where he became twice university road national champion. Even more interestingly, he formed part in 2006 to the BMC pro team in California, when it first appeared. In the following year, he had to retire to practise his profession as an engineer but since then, cycling remained the best hobby for Hector, who speaks Spanish and English.
En la prensa:
Algunos artículos sobre Colombia Bike Tours.cc:
Algunos artículos sobre la empresa matriz En bici por Francia: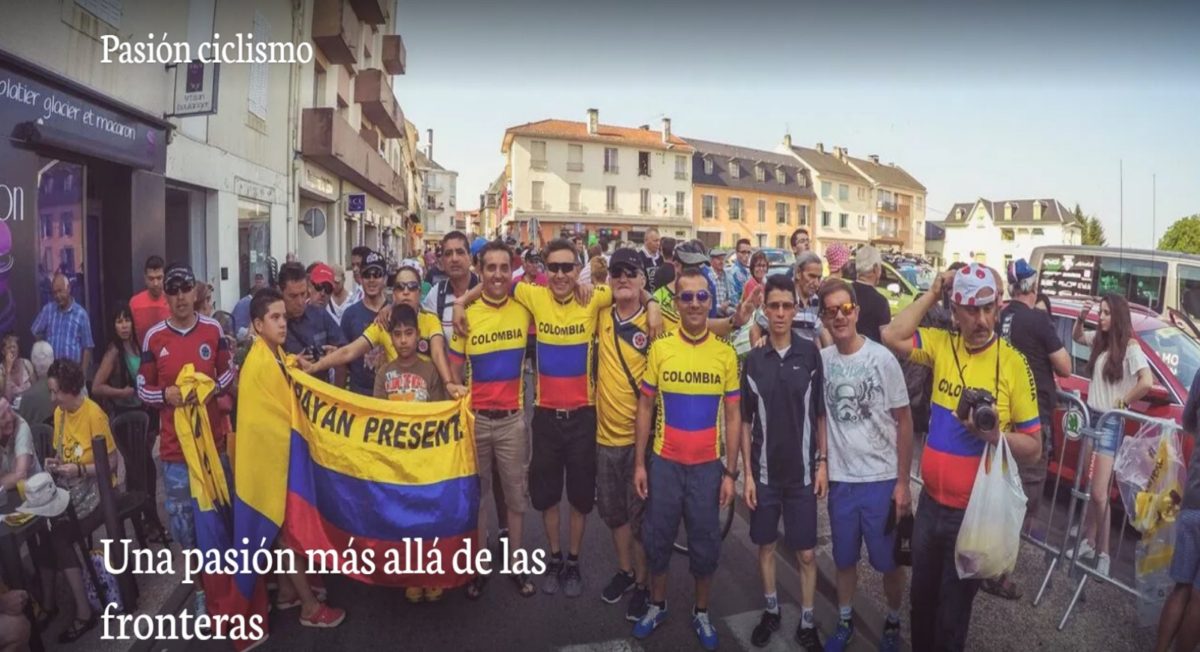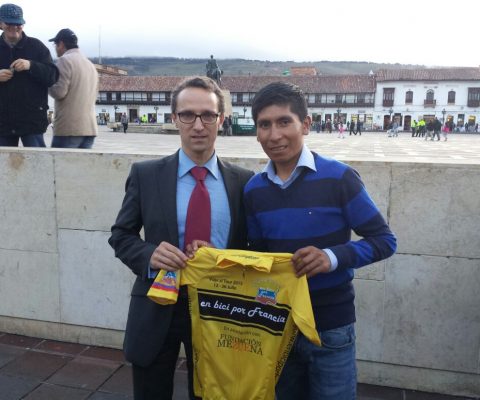 Encuentro con Nairo Quintana en su ciudad natal de Tunja (Boyacá), como parte de una visita con el embajador francés Jean-Marc Laforêt, en mayo de 2015, antes de su partida para participar en el Tour de Francia.