Colombia Bike Tours.cc is part of the renowned cycling tour operator En bici por Francia SAS, based in Bogota, Colombia. It is the only tour operator in Latin America dedicated to the organization of cycling trips in Europe.
Created in 2014 by cycling enthusiasts and former elite riders, En bici por Francia is the choice for passionate cyclists of Latin America, mainly from Colombia but also from Mexico, Costa Rica, Panama, Venezuela, etc. who want to combine the cycling tours of their dreams, professional support, a relaxing holiday atmosphere, quality accommodation, and like-minded people with whom to share the experience of a lifetime. Our trips are designed to achieve the right balance of endurance, challenge and fun. Our knowledge through the years allows us to take our clients through unknown routes to the most famous climbs in France and Europe, in order to give them a privileged and unforgettable experience.
Now with Colombia Bike Tours.cc, established in 2018, we want you to experience the incredible roads and landscapes of Colombia, a place increasingly popular to ride in and with still a very limited offer regarding cycling tours. We perfectly know Colombia since this is where we are based, and when you join us, we want you to know what it feels like to be a professional cyclist and we promise to offer you an exceptional technical support, with a choice of astonishing hotels.
Among others, you will be climbing the most impresive "puertos de montaña" on the planet, like the Alto de Letras, an impressive climb of 82km with close to 3900 metres of accumulated vertical ascent! Or you you will be riding on the high plateau of Boyaca, in between 2600 and 3200 metres altitude, where many of the Colombian pro riders do their training. And there are just a few of many examples.
Our professional cycling guides and our crew with our support vehicles will make sure you have a fantastic experience in Colombia. At the end of their experience, all of our clients feel as if they have been part of a group of friends.
For people who do not ride but want to accompany their beloved cyclist, we offer guided touristic tours in the different places we go to, to give them an experience that is both exciting and culturally rewarding.
We do hope you will be part in one of our next trips to live an experience of a lifetime.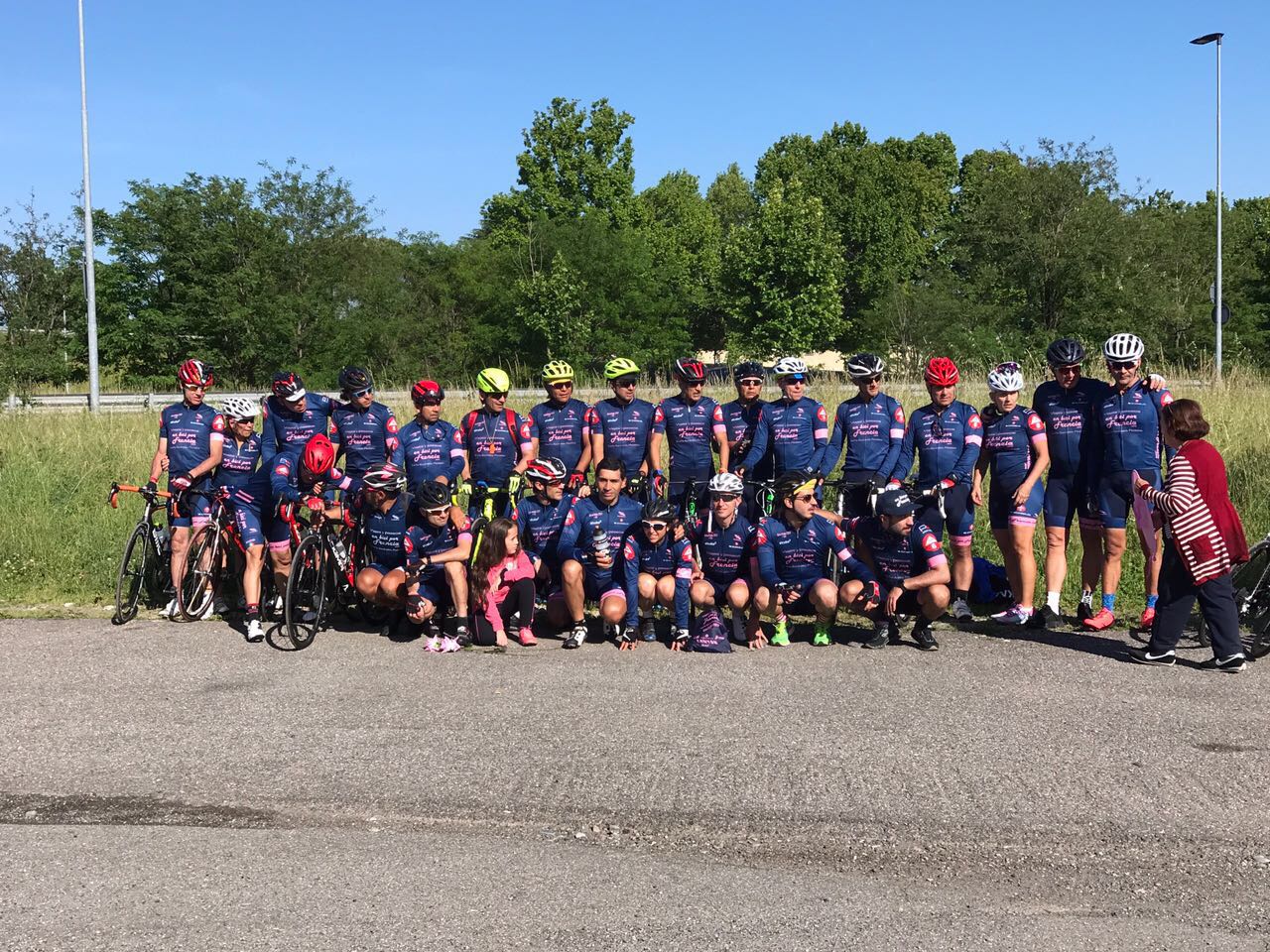 In the press:
Some articles about Colombia Bike Tours.cc:
Some articles about parent company En bici por Francia: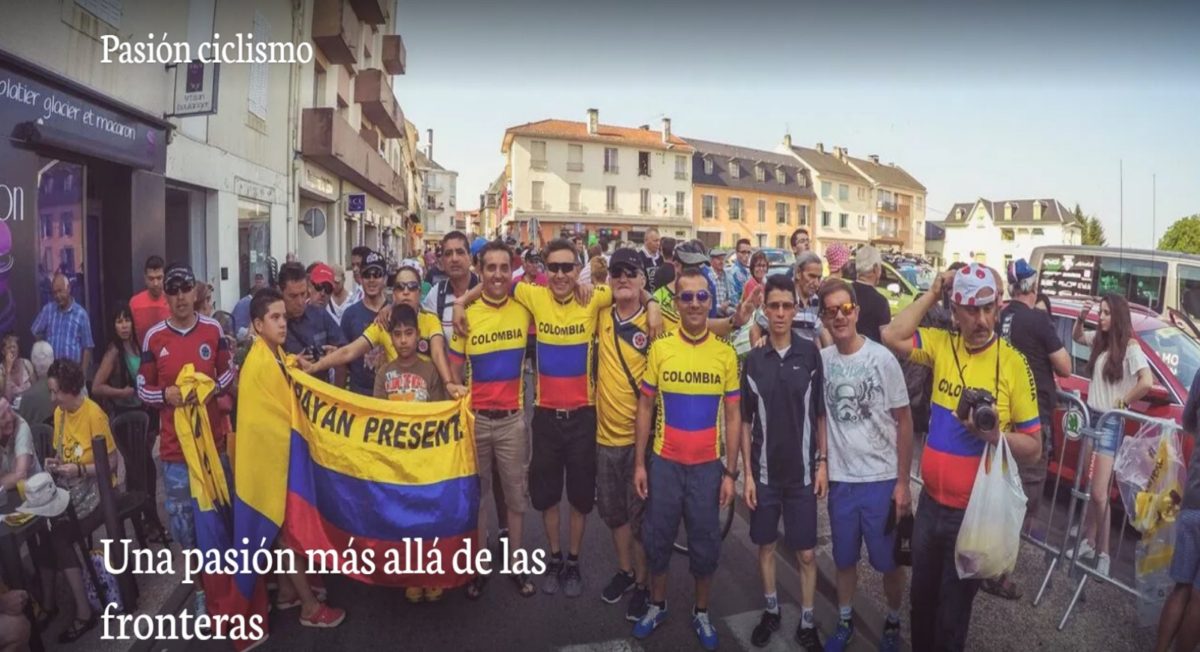 Passionate about cycling since always and living in Colombia since the end of 2013, Yves founded En bici por Francia SAS at the end of 2014 when he had the idea of creating a tour package for the Tour de France 2015, for a group of cycling fans. The project finally reached 45 people thanks to the support of the French embassy in Bogotá and its ambassador at this time, Mr. Jean-Marc Laforêt, who gave credibility to the project with his presence in the launch event of the company in Bogotá, in February 2015. Yves has been cycling since he was 14 and competed for more than 20 years at an amateur level in Europe, essentially in France. With the launch of Colombia Bike Tours.cc, Yves wants cycling fans from all over the world to discover by bike the magnificence of Colombia. For sure, many will be surprised by the beauty of these landscapes.
Formerly an economist, Yves is now fully involved in the management of the tour operator and also ride as a guide with the groups most of the time. Yves speaks fluently French, English and Spanish.
Gustavo, born in Bucaramanga, department of Santander, also the birthplace of several national cycling glories such as Víctor Hugo Peña (first Colombian ever to wear the Yellow Jersey in the Tour de France), has been practicing several sports since his childhood. He has been practising cycling and triathlon since 2014 and actually just finished his first ironman, the 70.3 of Cartagena, Colombia, very recently. A high level of education (he is just about to terminate a MBA) and a deep willingness to show the beauty of his country to foreigners, altogether make Gustavo the ideal person to manage our logistics and administration on a daily basis, as well as to serve as an excellent guide on the bike. Always with a smile on his face, Gustavo will be keen to solve any problem you could possibly encounter during your stay. Gustavo speaks English and Spanish.
Luis has been riding almost before he started to walk. American born, been living in Colombia for more than ten years, competed and cycled all over the world, Luis knows it all about cycling. He will be more than happy to receive cyclists from all over the world to show his beautiful adoptive country, with tips that even Colombians don't know about. Luis speaks fluent English and Spanish.
Passionate about cycling since a teenager, Canadian born Steve has been living in Colombia for more than five years now. Steve has been travelling a lot outside and inside Colombia to compete or take part in mass events like the gran fondos, not only on a road bike, but also on a mountain bike. Definitely in love with Colombia, Steve has a sense to make people feel welcome. With a strong knowledge of various cultural aspects of Colombia, Steve will show you and explain what is really interesting for a foreigner to know about the country. Steve speaks fluent English, Spanish and French.
Born in Bogotá, the capital of Colombia, and involved into sports and cycling since he's a teenager, Jose has a deep knowledge about sports sciences and obviously cycling – he is actually a sports teacher at Bogotá's Universidad Nacional. Before returning to live in Colombia recently, Jose spent 16 years in the US (Miami) where he always kept practicing cycling. Jose keeps competing in Colombia at amateur level and you will enjoy his high knowledge about the History of cycling and all its anecdotes. Jose speaks Spanish and English.
Born in the capital city of Colombia, and involved into cycling since he's 18, Hector used to belong to the track and road cycling selections of Bogotá during eight years where he used to train on a daily basis with national figures such as Edwin Avila and Esteban Chaves (Team Mitchelton-Scott). During that time, Hector also managed to study electrical engineering at the university, where he became twice university road national champion. Even more interestingly, he formed part in 2006 to the BMC pro team in California, when it first appeared. In the following year, he had to retire to practise his profession as an engineer but since then, cycling remained the best hobby for Hector, who speaks Spanish and English.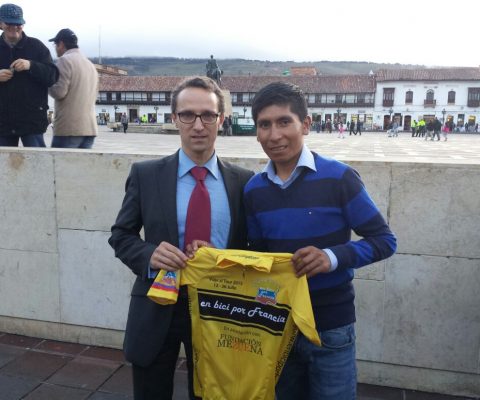 Encounter with Nairo Quintana in his hometown of Tunja (Boyacá), as part of a visit with the French Ambassador Jean-Marc Laforêt, in May 2015, prior to his departure to take part in the Tour de France. 
A Rueda Ciclismo - About cycling tour operator En bici por Francia