A finales de 2014 en Colombia, nació En bici por Francia– la empresa matriz de Colombia Bike Tours – el primer operador turístico en ofrecer recorridos en bicicleta en Francia para todos los aficionados al ciclismo de Colombia . Rápidamente se  convirtió en un operador turístico de renombre dedicado a organizar recorridos por Europa (Francia, España, Italia, etc.) para todos los amantes del ciclismo de América Latina.   
Con  Colombia Bike Tours hacemos exactamente lo mismo con los adictos al ciclismo de todo el mundo y los invitamos a viajar en uno de los mejores, y aún en gran parte desconocido, país para hacerlo:  COLOMBIA .
Nuestro equipo de profesionales está a tu disposición para guiarte por rutas que antes ni siquiera habías imaginado, con un soporte técnico digno de los mejores equipos profesionales. Ven y monta con nosotros el Alto de Letras, "la subida más grande del mundo" (82km long with 3900 meters elevation gain), ride in the lovely Boyaca at 2600 meters high, were many Colombian pro riders do their training, or watch live the Tour Colombia UCI, with the participation in recent editions of cycling stars such as Chris Froome, Julian Alaphilippe and many others, plus all the Colombian cycling heroes: Egan Bernal, Nairo Quintana, Rigobero Uran, Fernando Gaviria, etc.
Additionally, we are developing several customized tours for road or gravel riding, whether on the same area for several days or travelling from one place to another (Bogota to Cartagena or Santa Marta for example). Possibilities of riding are just limitless in Colombia!
¡Te esperamos en las FANTÁSTICAS carreteras de Colombia!
"Watch my videos with Colombia Bike Tours!"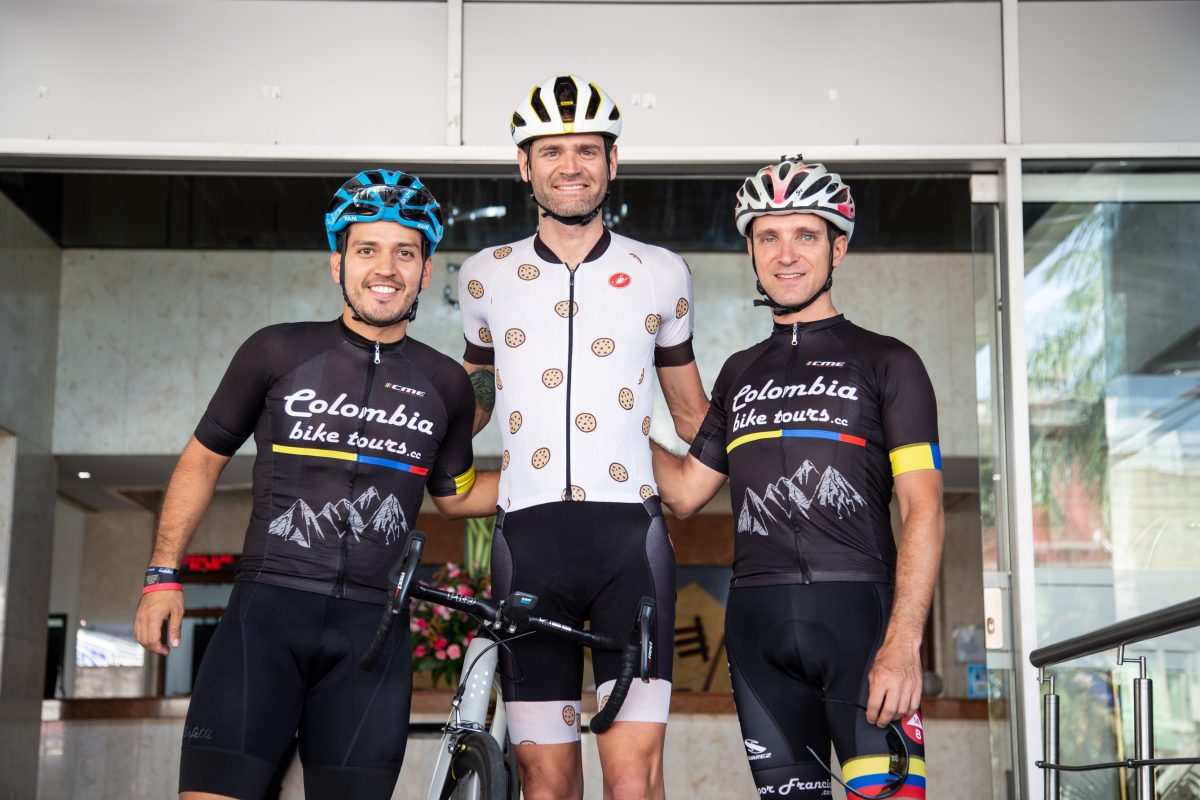 Phil Gaimon, the most famous cookie eater and non-professional cyclist, was our VIP guest in our February 2019 tours. He also returned in early 2020.


Febrero de 2019: parte 1/3
Febrero de 2019: parte 2/3
Febrero de 2019: parte 3/3
For you, we have selected the best roads to ride in Colombia. All our tours are meticulously planned, kilometer by kilometer, hour by hour. With professional guides and high-level technical support. All you have to do is ride your bike and enjoy those magical landscapes, whether on your own or with your group of friends, no matter what your level of cycling.
Are you looking to enjoy the bike trip of your dreams in Colombia? We are here to help. If you want to organize an unforgettable trip with friends or an exclusive tour with a high-level of services, our experienced team and deep knowledge ensure that you will live a unique experience, with hotels chosen to your liking and wonderful routes, with all the professional support.
Si está buscando una excelente manera de entretener a sus clientes o crear un ejercicio memorable de formación de equipos para sus empleados, un evento de ciclismo es la respuesta perfecta para su empresa. Desde un paseo en bicicleta por Bogotá hasta un viaje completo con algunas de las subidas más grandes de Colombia, organizamos para su empresa el evento ciclista perfecto que entusiasma a sus clientes y deleita a sus empleados.
"Most epic cycling trip of my life! We went on this trip in Feb right before the pandemic hit and it also coincided with the Tour de Colombia. We rode through beautiful countrysides, up mountains, down epic descents, through quaint towns and drank it all in on our bikes - around 500 miles over 8 days. Besides the incredible riding, it was a real treat to stay at the same hotel as the pros that were racing in the Tour de Colombia. We saw countless pros riders and even got to snap a few pictures with Julien Alaphilippe and TdF winner, Egan Bernal. It was truly a pro experience, definitely would recommend the trip and I hope to come back to Colombia again with Colombia Bike Tours - perhaps on gravel bikes this time!"
"I was incredibly impressed with our guides; Yves, Jose, and Rodriguez who all were outstanding. They also happen to be intimately engaged with many of the professional riders and have coached or raced with many of the Colombians. We had some strong riders and they were more than ready to go when the group wanted to hammer and could sense when and who needed to slow the pace and enjoy the scenery. Because we had 2-3 guides and 2 cars we were able to break up the group and manage different paces.
[...]
I had been really interested in visiting Colombia and getting to ride in what I heard was a cycling mecca, It did not disappoint.
The country welcomes cyclists on the roads. It seems everybody rides and they have a real appreciation and more importantly respect for cyclists. The roads through the villages and into the mountains were epic. The small towns, with their ubiquitous but locally unique town squares, were always welcoming with coffee and pastry shops along with the requisite imposing church. The locals were fantastic and very friendly."
"Only had three days available to ride and wanted to attempt Alto de Letras. Had extensive, timely email exchange with Yves (the owner/operator) prior to our arrival to communicate our needs and evaluate options. Jose was an excellent on road guide and ambassador for Colombia and its cycling history! He met us as scheduled at our hotel where our Canyon bikes had already been delivered. Jose was very attentive to our riding and modified our planned routes to better match our abilities (and the weather forecast). [We started our first warm-up ride from our downtown hotel through Bogota traffic which was exciting and enjoyable but may not be for everyone] The drive to Marquita is long but worth it for the experience of riding one of the most beautiful climbs in the world. When back in Colombia I will definitely contact Yves and Jose."